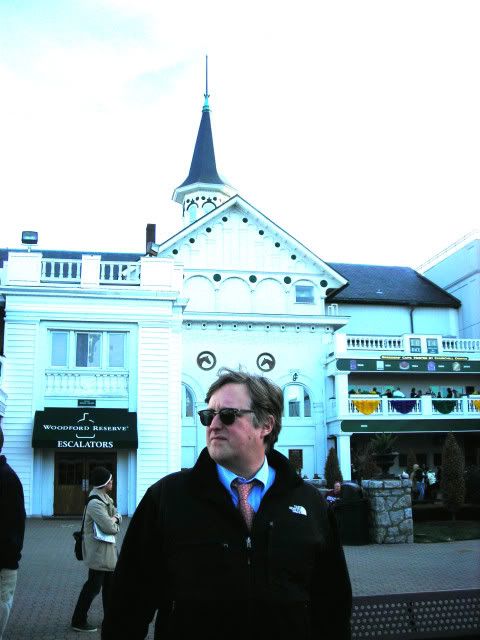 Hello friends. 'Tis, of course, retail season, though it's not as bad as it has been in the past. They cut the hours back at work a bit (35 hours in three days, down from 43), and being in better shape helps too (especially having stronger legs). Jimmy Smith's Home Cookin' helps soothe the jangled nerves on the ride to & from work - no longer does the Coltrane/Ayler heavy duty mental chiropraction seem necessary.

A few years back, I finally stopped trying to make the family rounds at Thanksgiving. Not that I wanted to skip out on family, but the six or eight hours of driving, the two stops for just a few hours each, all sandwiched between a ten hour work day and a fourteen hour workday (the second one starting at 4:30 am) with stampedes of insane shoppers . . . well, it was time to turn T-day into a day of rest & watching the ritual destruction of the Detroit Lions.

But this isn't about retail. This is about the track. First, a little prelude, courtesy BUS HUS:
17 - Track About the Track.mp3
Virtually to the end of the Fall meet, a long way from the bonnets & juleps of spring: it's Thanksgiving at Churchill Downs!
We woke up leisurely (late) and pulled out what qualifies as our "best" clothes & headed out to the track. We had scored some box seats from one of Sharri's co-workers and decided it would be better than watching Detroit loose again (though, admittedly, their beyond-mathematical-suckitude is staggering & somehow has a sick attraction). And, there was the promise of a gourmet Thanksgiving dinner! Well, we were off.
We rolled up on Churchill in the Maxx, Johnny Cash humming through the speakers. Americana, you know. Seemed appropriate. After parking and strolling through the gate, we found out pretty quickly that we would indeed have been treated to Thanksgiving dinner IF we had made our reservations in advance. Oh well. That free dinner thing seemed too good to be true anyway, so I wasn't too disappointed.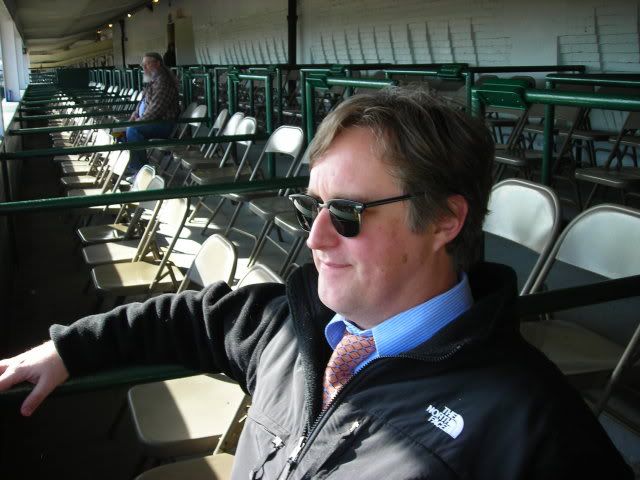 We found our seats easily among the almost empty boxes. We had made it on time for the second race: Emily, Michael and Ellie's Thanksgiving Day Run. The day was sunny and beautiful, and we were virtually alone.
First priority: beer. It was still early, so it seemed wise to start with beer, and maybe throw down some Woodford Reserve later. Sharri asked if I wanted to bet. My reply was simply "beer". So, beer it was - two frosty golden lagers in clear plastic cups. Now, I was expecting St. Louis pisswater lager (a.k.a. Budweiser) since it seemed that Budweiser owned all the major beer concessions in town, but I had forgotten about the Belgian takeover, and indeed! The golden lager in my plastic cup was Stella Artois, not Budweiser. Actually, it was probably a simulacrum of the bottled Stella Artois I normally get, which is itself a simulacrum of the thing itself available in Belgium. Still, the first sip elicited that usual "hmm, this is damn good Budweiser" thought that I have every time I take a sip of post-Budweiser Stella from the tap.
A beer or two down, Sharri wanted to start betting. I told her I had no interest in giving Churchill money unless I got booze in return, so she was on her own with the betting. She told me she had a system. I told her EVERYBODY has a system, and the doors are still open on this old rat hole, so I'm guessing not many systems are much good. Seems she was betting $2 Trifecta boxes based on the jockeys, not the horses. All day I was subject to a bunch of yelling, then the inevitable lamentation "Ah, hell, if (insert random horse number here) wouldn't have slid into the top three, I would have hit my trifecta! I had three of the top four! I'm getting so close!". The money lost was not significant,
unless you consider it lost booze!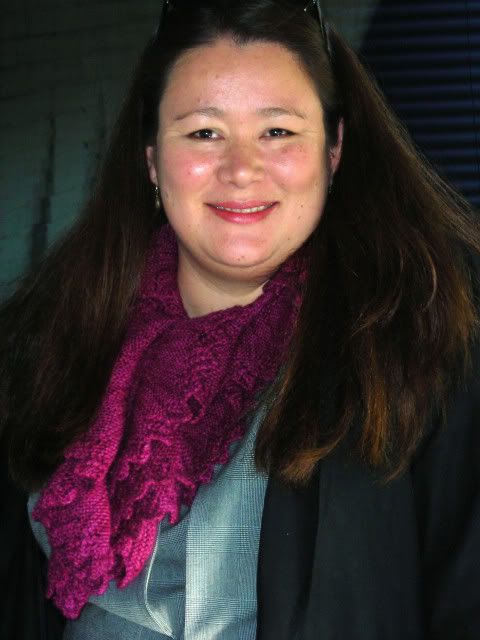 Thanksgiving dinner not forthcoming, we had to fend for ourselves. Back past the betting windows, there was a (horse-themed, natch) food court. Based on the food at Slugger Field (barely edible on the best of days), we had low expectations, hoping only for gut filler. We ordered double bacon cheeseburgers which were, to my amazement, actually pretty good: the bacon was nice and crispy, and the burgers had a swell charcoal braze to them. The garlic Parmesan fries were pretty tasty as well . . . and at $6.25 each for the burgers and $3.25 each for the fries, I didn't feel totally ripped off.


The American subcultural understanding of Churchill Downs is Hunter Thompson's 1970

Scanlan's Monthly

essay "The Kentucky Derby is Decadent and Depraved". Thanksgiving Day at the track is a long way from the Kentucky Derby, or even the Oaks or Breeder's Cup, but I still think it's clear that Thompson's fevered vision is more transformative than it is descriptive. Certainly here today, in the radiant late fall sun, Thompson's phantasms are far away. For most of the afternoon our only neighbor was the track furniture in the background of the shot of me in the boxes (above). Strolling through the paddock and past the betting windows, there was a muted earth-toned kaleidoscope of post-social Bluegrass dwellers. There were the usual proletariat players, sporting mid-length leather jackets and jeans, smoking Marlboro Lights and swilling beer (St. Louis pisswater lager, I'm guessing). There was the dispossessed of Louisville, out in windbreakers & clutching

Racing Forms

. There was the detritus of the aristocracy, the bluebloods of Louisville faded down to a washed-out gray. Little girls with white elbow gloves eating Thanksgiving dinner. Thirty-something bachelor daughters in eighties throwback wool tweed skirt suits (a little tight at the hips, perhaps). Doughy divorce lawyers with expensive suits, once well-tailored, now ill-fitting. The thing itself, copied and degraded to a simulation of itself.

Not that I'm letting myself off the hook. I have two dress shirts: one that fits through the body and chokes at the neck, and one that fits through the neck and squeezes my gut. The wife, stylish in her new suit, wouldn't mind moving a couple buttons. I am here with my people.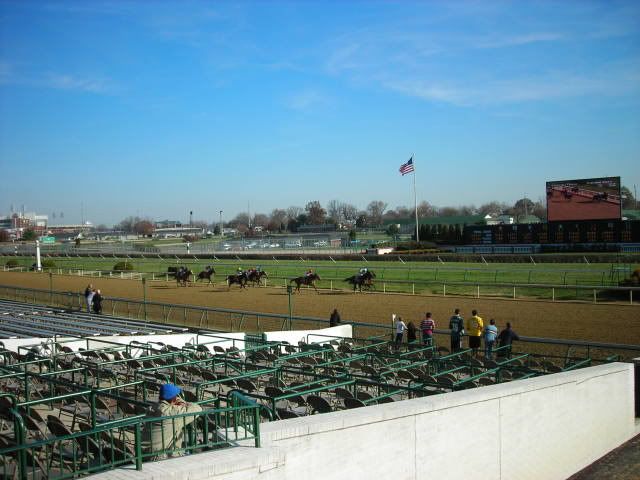 We live on a cultural scrap heap. In some places the strata is more visible than others. Churchill downs is so rich in layers it's like a rock formation which has had an interstate blasted through it . . . but, unlike the fresh highway cuts, the layers have degraded from exposure. Everything is the same here, it just means something else.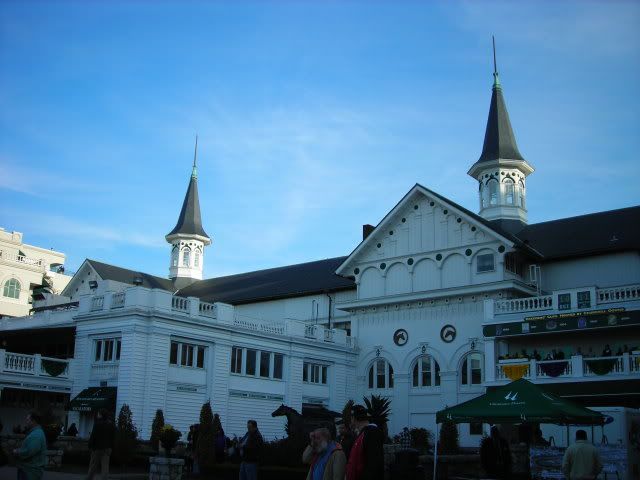 As the afternoon wore on, we began to consider dinner. Our money was about gone, so eating at the track again wasn't really an option. There was no food at home, so we would have to swing by the grocery to pick something up. We decided on our traditional stay-at-home Thanksgiving dinner: huge shaved turkey breast sandwiches moistened with turkey gravy and topped with colby jack cheese, Ruffles ranch potato chips, and cranberry/vanilla vodka Thanksgiving cocktails. I remembered the Kroger in Clarksville was closing at 5 pm, so I assumed all of them were (turns out I was wrong, but oh well). It was just after four, so we had enough time to get to the car and swing by the Kroger by the track to get our fixings. Besides, we had a relaxing day soaking up the sun at the track, and I had a 3:30 am Black Friday alarm to answer.

We grabbed our programs and headed down to the gates, taking a few moments to linger at the paddock. As we strolled back to the Maxx, the 94th Running of the Falls City Handicap was just getting ready to go off.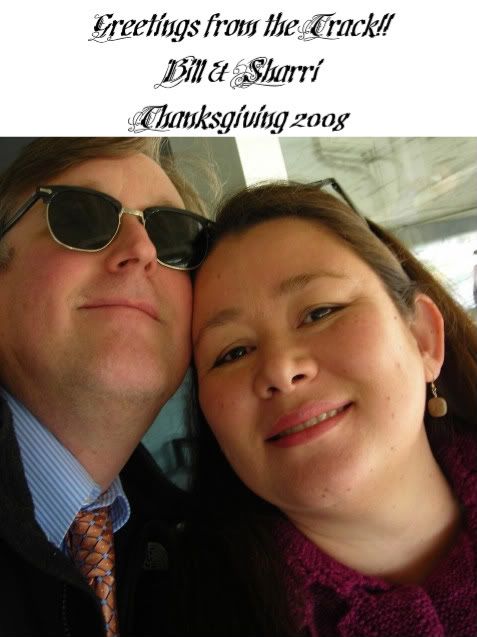 11/30/08 revised 12/7/08