"In St. Louis things didn't seem to be so good, and he got into a row with a hooker he picked up on Market Street who tried to roll him, so as a guy told him there were plenty jobs to be had in Louisville he began to beat his way east. By the time he got to New Albany it was hot as the hinges of hell; he'd had poor luck on hitches and his feet were swollen and blistered. He stood a long time looking into the swift brown current of the Ohio, too tired to go any further. He hated the idea of tramping around looking for a job. The river was the color of gingerbread; he started to think of the gingercookies Lizzie Green used to make in his mother's kitchen and he thought he was a damn fool to be bumming around like this. He'd go home and plant himself among the weeds, that's what he'd do."-- John Dos Passos,

The 42nd Parallel
Listen to (and download) the new Hoosier Pete EP, Swirling Gingerbread River: Live at Lisa's 9-12-2008.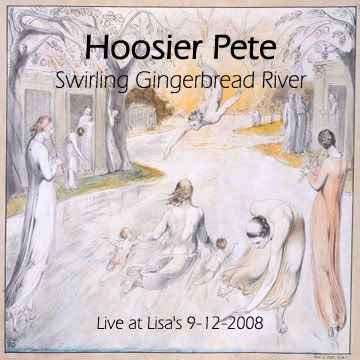 Recorded at the release party for
Portland
,
Swirling Gingerbread River
is a rough & ready live document of the Hoosier Pete sound.
Hoosier Pete wrote & played it
Dan Willems recorded it
Hoosier Pete salted it